Instant messaging (IM) is a type of real –time communication between two or more people based on typed text. It also allows you to communicate through video conferencing. The text is communicated through various devices connected over a network such as the internet. There are several instant messaging services that help you to send messages to your friends and relatives worldwide in a jiffy.
10.Twitter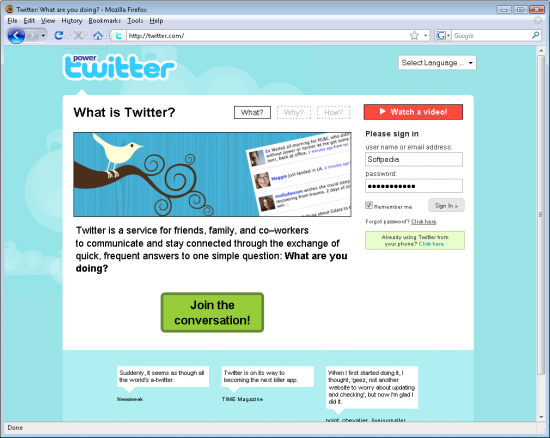 Twittering is also a less gated method of communication: you can share information with people that you wouldn't normally exchange email or IM messages with, opening up your circle of contacts to an ever-growing community of like-minded people. Twitter is a social networking and microblogging service that allows you answer the question, "What are you doing?"by sending short text messages 140 characters in length, called "tweets", to your friends, or "followers.
9.Hi 5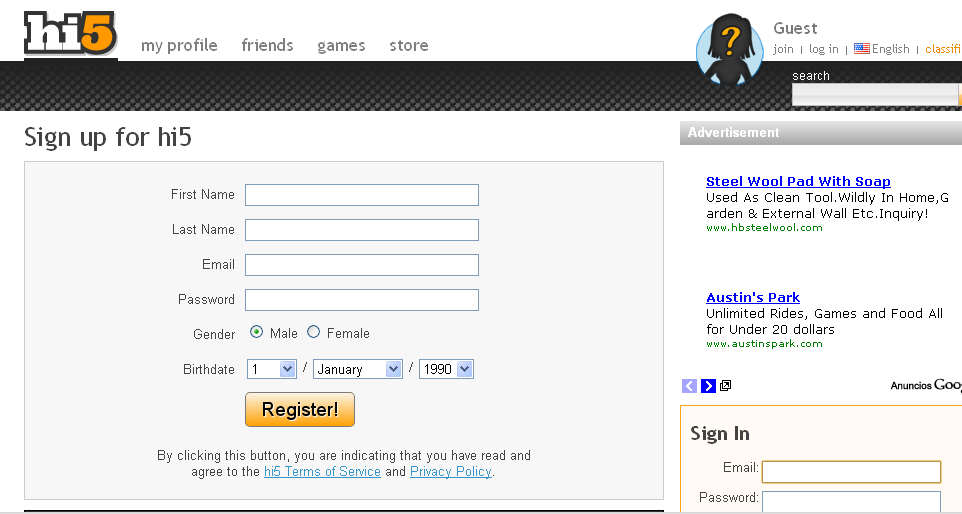 Hi 5 is a social entertainment website in which user creates online profile information, create photo albums, play online games and setup a music player in the profile. Some users opt to make their profiles available for everyone on Hi5 to view. Other users exercise the option to make their profile viewable only to those people who are in their network. Users can also send friend requests via e-mail to other users
8.Trillion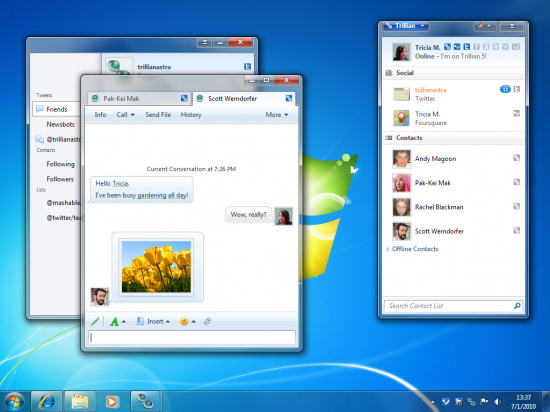 Trillian is a fully featured, stand-alone, skinnable chat client that supports AIM, ICQ, MSN, Yahoo Messenger, and IRC. It provides capabilities not possible with original network clients, while supporting standard features such as audio chat, file transfers, group chats, chat rooms, buddy icons, multiple simultaneous connections to the same network, server-side contact importing, typing notification, direct connection (AIM), proxy support, encrypted messaging (AIM/ICQ), SMS support, and privacy settings.
7.Google talk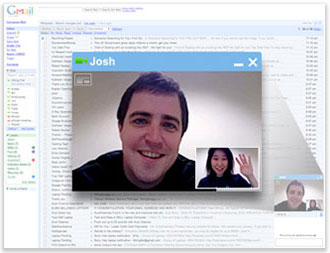 Google talk is a freeware windows based application for instant messaging and voice over internet protocol.google talk mobile service is also available for Black berry,Palim Pre,Iphone, Android-based devices. You can make a call, send IM or e-mail to anyone in the contact list. If your friends aren't around to answer your call, you can leave them a voicemail message instead. Once you're up and chatting, check out the video preview feature.
6.AIM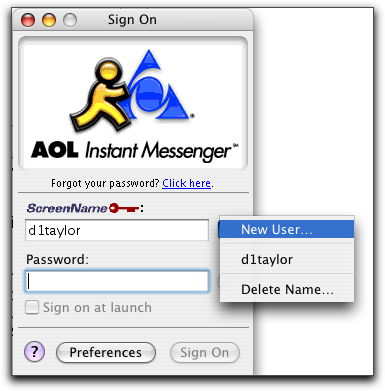 AOL AIM Triton is the next generation release of AOL Instant Messenger. It is an all new user experience with an elegant, tabbed look and feel.New 'Quicknote' feature replaces the initial IM window to provide a snapshot of known contact information about that buddy and give users three choices: launching an IM session, launching an AOL Talk session or sending a mobile text message to a cellular user.The tabbed messaging interface helps users easily transition from text to mobile instant messaging or AOL Talk, and will eventually enable users to launch video IM sessions, share files or images and invite Buddies to play games with one click.
5.Orkut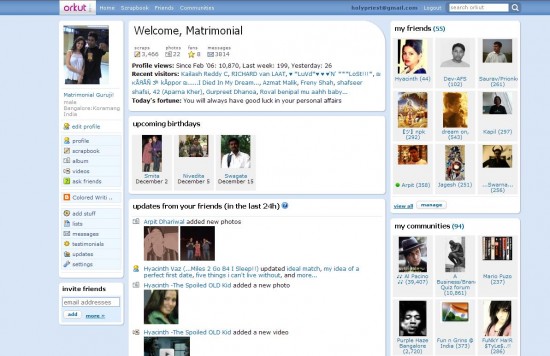 An Orkut user can add videos to their profile from either YouTube or Google Videowith the additional option of creating either restricted or unrestricted polls for polling a community of users. A new feature in Orkut is Changing Themes. Users can change their interface from a wide range of colorful themes in library.Members can make groups to join friends according to their wishe. Each member can also customize their profile preferences and can restrict information that appear on their profile from their friends and/or others (not on the friends list). Another feature is that any member can add any other member on Orkut to his/her "Crush List" and both of them will be informed only when both parties have added each other to their "Crush List".
4.Yahoo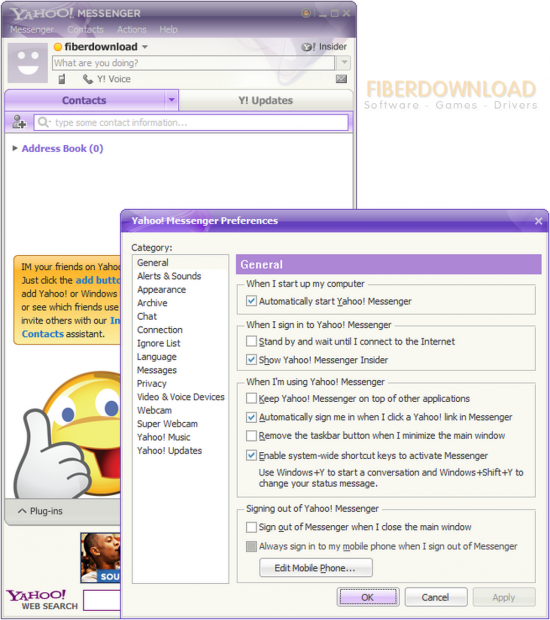 Yahoo Messenger is a free service that allows you to see when friends come online and send them instant messages. It can also alert you to new e-mail in your Yahoo Mail or Yahoo Personals account, or when you have upcoming events recorded in Yahoo Calendar. yahoo address Book is synchronized with Messenger Use Stealth settings to choose who can see you and who can't .
3.Msn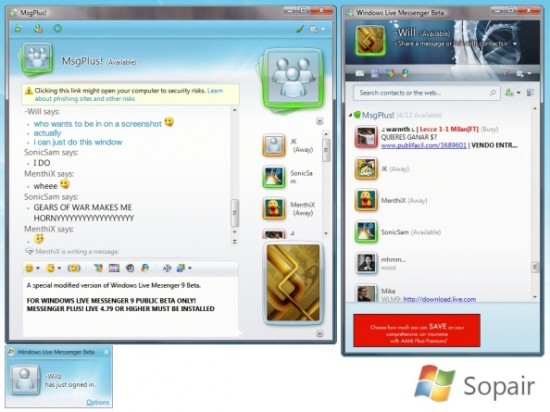 Msn Messenger has foloeing key features: Call your friends' PC (free), mobile or landline phones. Calls require a microphone and speakers or a headset and broadband connection. Make calls for less than $.02 a minute to most places around the world with Verizon Web Calling. Start a video conversation within minutes with a webcam. Drop in photos and other stuff for friends in a Sharing Folder, as many as your computer can handle. With Windows Live Messenger you can now connect with your Yahoo! IM contacts.
2.Facebook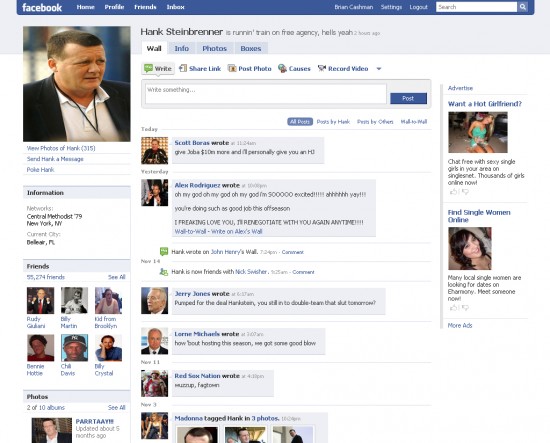 Facebook is a social network website that are launched in February 2004.it is privately owned by Facebook,In July 2010 Facebook has more than 500 million active users, Users can create a personal profile, and exchange messages all over the network w.r.t security setting, including automatic notifications when they update their profile. Additionally, users may join common interest user groups, organized by workplace, school, or college, or other characteristics.
1.Skype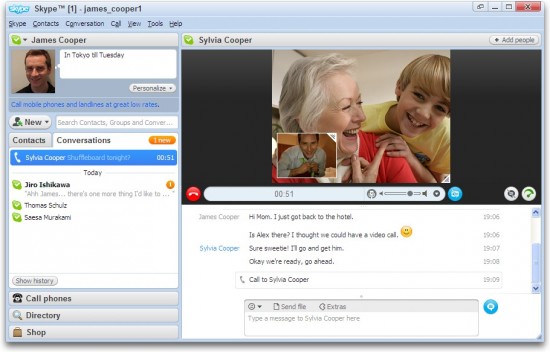 Skype is software for calling other people on their computers or phones. Download Skype and start calling for free all over the world. It also allows you to chat through video calls to all over the world. The calls have excellent sound quality and are highly secure with end-to-end encryption. You don't even need to configure your firewall or router or any other networking gear. Skype is used on windows, Mac OS X, Linux and PDAs using Pocket PC, with a native look and feel for each platform.