10.Sortfix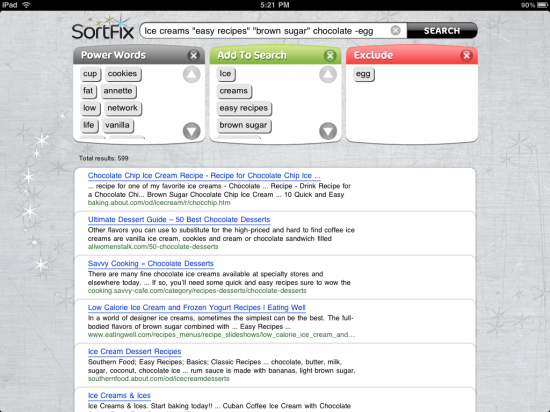 SortFix originated from the very basic dilemma of how to improve the web search so as to, in fact, find relevant results. SortFix Team examined the search strategies of a large group of volunteers and discovered they could be divided roughly into 2 groups: Regular searchers and advanced searchers. The technology encourages the user to "speak" with the search engine and describe a longer and detailed query, as an advanced user would do, in less time and with words that even an advanced user could not come up with by him self.
9.Kngine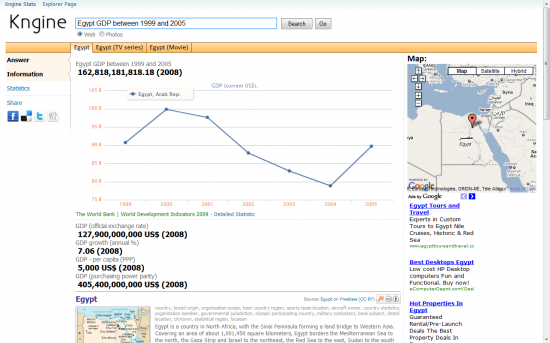 Kngine just released a new search technology called: 'Parallel Search' When you entered 'Authors', Kngine will list popular authors in result page, then you can filter this list by: Date of Birth, Nationality, Place of Birth, School or Movement. Parallel Search allows you to perform research on authors with same attributes.
8.Dogpile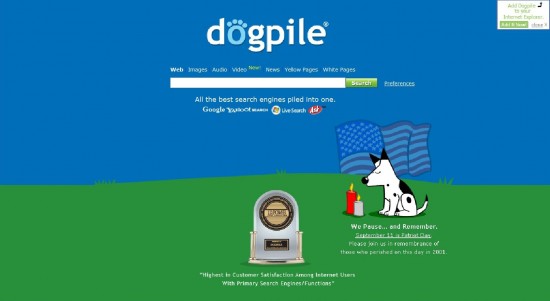 Each search engine has its own method of searching and each will return different results. Dogpile looks at all of them, decides which are most relevant to your search, eliminates duplicates and reveals them to you. In the end, you get a list of results more complete than anywhere else on the Web. The time-saving philosophy of metasearch is so important to us that it even inspired our name! In rugby, players come together and pile on top of one another.
7.Wikipedia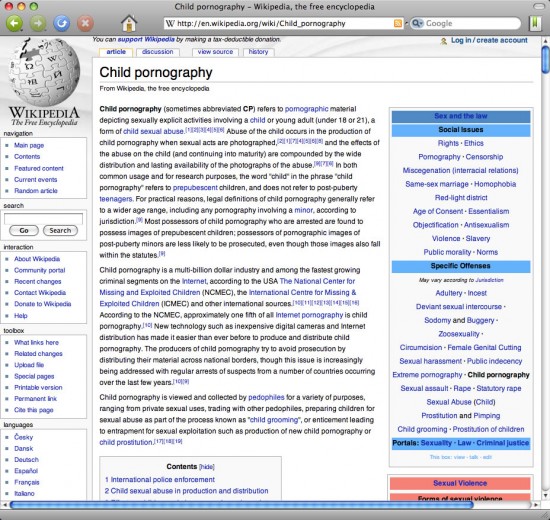 The internal search engine can search for parts of page titles or page title prefixes, and in specific categories and namespaces. It can also limit a search to pages with specific words in the title or located in specific categories or namespaces. The search box is located at the top right on every page on the standard Wikipedia skin (Vector). It will take you to the article which matches your query, otherwise it displays the search results
6.Altavista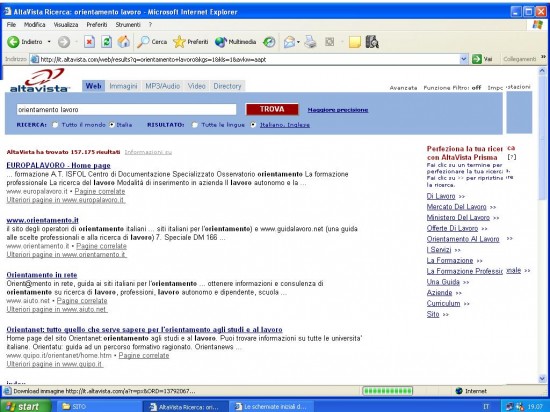 It's a web search engine owned by Yahoo!. AltaVista was once one of the most popular search engines but its popularity declined with the rise of Google. AltaVista is the only search engine that permits you to sort search output on keywords you choose. This is very useful in organizing output from a search to make screening the results easier.ity has following features
Web database: AltaVista's own indexed Web pages including PDF files
Directory: Open Directory (formerly LookSmart)
News: AltaVista's own crawled pages (formerly from Moreover)
Ads: from Overture
Images: AltaVista's own crawled image files
Audio and Video: AltaVista's own crawled multimedia files
5. Aol search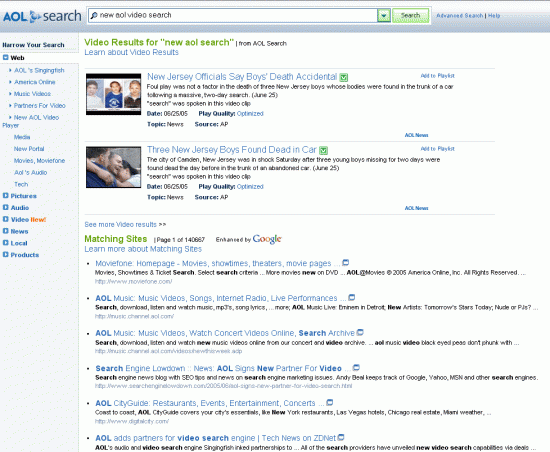 AOL has about 2.9% of the search market, according to comScore, and would help push Microsoft over 30% when combined with their Yahoo deal. Google holds over 65%. AOL has always worked to put their own spin on search. Some of the new features aren't much different from Google's own personalized search results options, but others are new and certainly worth looking in to.
4.Ask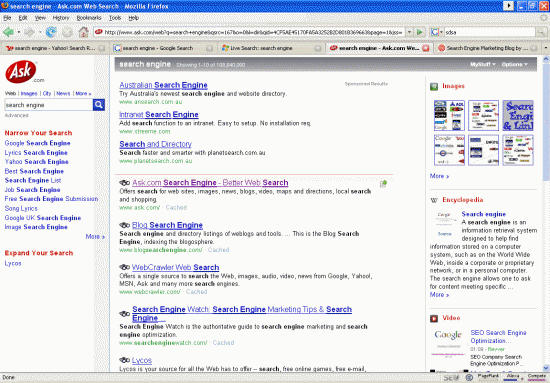 Ask.com was originally known as Ask Jeeves. The Ask.com Toolbar is a free browser extension from Ask.com, available for both the Internet Explorer and Firefox web browsers. The original idea behind Ask Jeeves was to allow users to get answers to questions posed in everyday, natural language, as well as traditional keyword searching. Ask's platform often features content, widgets and software integration with the partners who distribute these toolbars.
3.Bing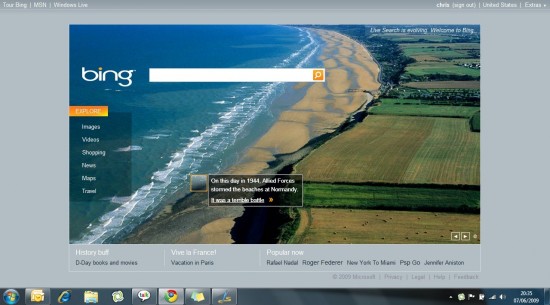 Bing had launched in 3 June 2009.it has following some new features. Instant Answers, Deep Links, Quick view preview feature, Best Match, Categorized Search, Quick Tabs, Related Searches, Enhanced Video Experienc, Bing Shopping,Bing Trave,Bing Health,Bing Mobil,Bing Toolbars ,Improved Visual Presentation.
2.Yahoo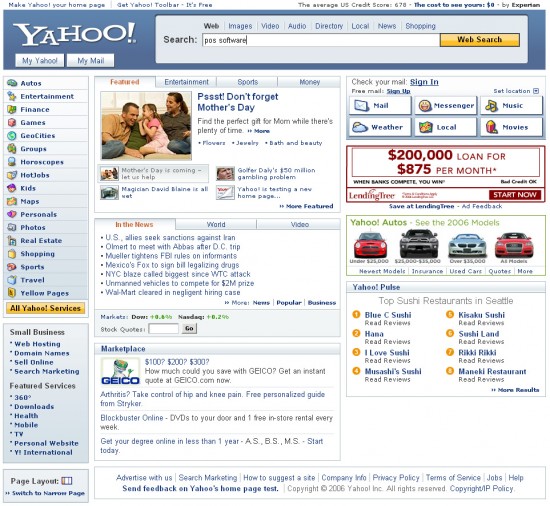 Yahoo! operates the web portal http://www.yahoo.com which provides content including the latest news, entertainment, and sports information. Yahoo! provides Internet communication services such as Yahoo! Messenger and Yahoo! Mail. Yahoo! also introduced its Internet search system, called one Search, developed for mobile phones on March 20, 2007. Yahoo! partners with numerous content providers in products such as Yahoo! Sports, Yahoo! Finance, Yahoo! Music, Yahoo! Movies, Yahoo! News, Yahoo! Answers and Yahoo! Games to provide media content and news
1.Google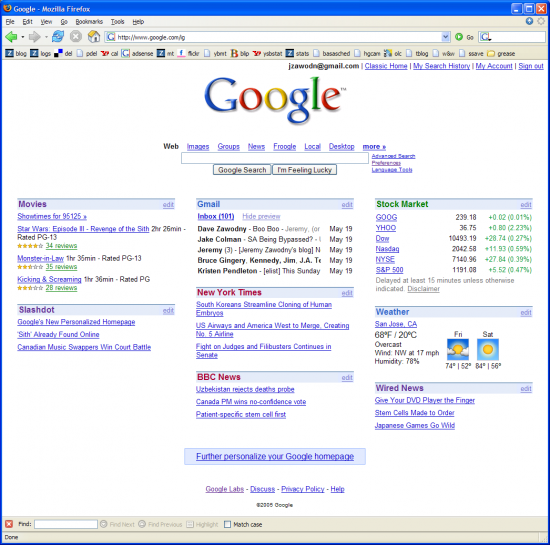 Google Search provides at least 22 special features beyond the original word-search capability.The google.com site, is the top most-visited website in the world. Google's search engine normally accepts queries as a simple text, and breaks up the user's text into a sequence of search terms.Google search consists of a series of localized websites. The google.com site, is the top most-visited website in the world. Some of its features include a definition link for most searches including dictionary words, the number of results you got on your search, links to other searches, and many more.